Report on the San Antonio Reunion

28 September – 2 October, 2004


Before going on about the reunion, we need to be reminded of the many members who had planned to attend the reunion, but were dissuaded from doing so by the rash of hurricanes that have hit Florida and other southern states this season. Our hearts go out to those whose homes were damaged or whose lives were affected in some way by the hurricanes. We wish you well and hope to hear your stories as soon as you are able.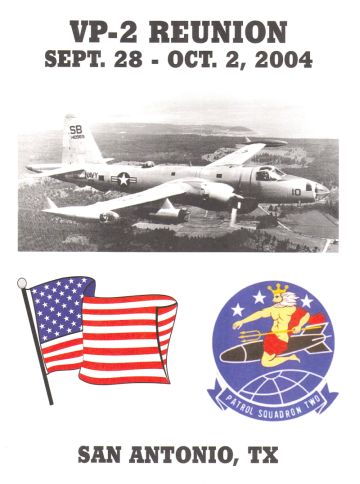 The VP-2 Association's biannual reunion was a great success. The reunion was held in the beautiful city of San Antonio, Texas, and hosted by our friends Pat and George Jenista, who live a few hours away in Granbury, TX. Our members had the opportunity to visit with old friends, some of whom were new to the Association. We saw people we hadn't seen in forty years.
We stayed in the historic Menger Hotel, which is right across the street from the Alamo and only a few paces away from the famous Riverwalk. On Tuesday, during the check-in process, we had a cocktail reception in the hotel ballroom, where we could spot old friends as they checked in for the reunion. The next morning, we had our reunion brunch-business meeting in the same ballroom. Among other events at the business meeting, Marie Hart announced her retirement from being the VP-2 Association's only Secretary/Treasurer. A Proclamation was read in Marie's honor. It was announced that Doug Donohue would replace Marie as Sec/Treas. and Marie would become a Director on the Association Executive Board as of October 1, 2004.
There were opportunities galore for eating, drinking and shopping within walking distance of the hotel. San Antonio's only indoor mall is adjacent to the Menger Hotel. The Jenista's arranged for us to have a second-floor Duty Office suite with a separate room that we could devote to our new Ship's Store. The Duty Office held all the pictures and scrapbooks that we normally see, and there was coffee and other liquid refreshments available for the asking. The Duty Office also afforded the Memorial Committee space to set up shop to tell the members about the Memorial and to offer help in filling out the brick-order-forms that are being used to raise funds for the Whidbey Patrol Squadron Memorial.
The Ship's Store is a new concept that began at this reunion. An inventory of memorabilia items was put up for sale to raise money for the Association. Such items as ball caps, squadron patches, sport shirts and sweatshirts embroidered with a VP-2 logo, and many others were sold throughout the week. We sold over $3,600 worth of merchandise, which gave us profits of about $1,100 for the Association treasury. We hope to do even better at the next reunion, now that we have some retail experience under our belts.
The Jenista's planned several events for our entertainment. One event was a bus tour to Fredericksburg, TX to tour the Nimitz WWII Naval Museum, and to give us the opportunity to walk up and down the main street visiting a variety of interesting shops. Fredericksburg was the hometown of ADM Chester Nimitz. The home where he was born has been preserved on the main street of town. Another event was an enjoyable and comprehensive bus tour of Randolph AFB with an all-you-could-eat seafood buffet lunch at the Randolph AFB enlisted club.
The final event of the reunion was the banquet held at the Fort Sam Houston Officer's Club on Friday night. A casual evening featuring a barbeque dinner, a lively band with vocalists, enough for all to drink, and time for conversation with our old friends was a fitting end to the week's activities.
Once again, we are indebted to Pat and George Jenista, whose dedication and hard work made it all happen.
A number of people were spotted throughout the reunion week with cameras. It is hoped that those who took pictures will share them by letting Doug Donohue post them on this website for all to see. Either scan the pictures onto your computer yourself, or have it done for you at your local photo shop. Send them to Doug as email attachments.
We hope to see you at the next reunion, which will be held in Oak Harbor in 2006 to coincide with the dedication of the Whidbey Patrol Squadron Memorial.
[by Vic Gulliver 06Oct2004]