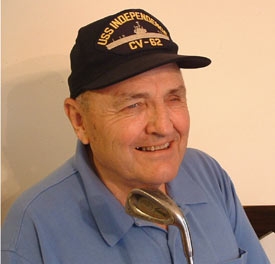 Warren E. Farwell, 76, of Destin, Florida, formerly of La Crescent, Minnesota, died Thursday morning Nov. 1st 2007 at home in La Crescent surrounded by family.
He was born April 23, 1931 in Falls City, Nebraska to Walter and Alice (Brandt) Farwell. Warren grew up in south Saint Paul, Minnesota spending his summers working at his cousin's farm in the Morris/Starbuck, Minnesota area. Learning the values of hard work on the farm, he applied those skills early on, maintaining a large paper route for the Saint Paul Pioneer Press, and later earned a Navy ROTC Scholarship to study Engineering at the University of Minnesota. While studying there he met and married his wife of 53 years Patricia L. (Marek) Farwell who was also studying Engineering.
Following University graduation in April 1954, Warren and Pat married June 18, 1954 and Warren reported to U.S. Navy flight training in Pensacola, Florida, completing carrier qualifications by landing onboard USS SAIPAN (CVL-48) and earning his Naval Aviator Wings of Gold on Dec. 27, 1955. Stationed initially as a flight instructor at NAS Hutchinson, Kansas, they later moved to Whidbey Island, Washington where Warren flew P2V "Neptune" anti-submarine patrol bombers in squadron VP-2. Leaving active duty in 1960, Warren continued flying in the U.S. Navy Reserves until July 1978 and retired with the rank of Commander having logged over 4,000 hours of flight time in many types of aircraft ranging from the SNJ "Texan" trainer, SNB "Kansan," P4Y2 "Privateer," S-2 "Tracker" and nearly every version of his favorite P2V.
Returning to civilian life in 1960, Warren went to work for Trane Co. in La Crosse where he started as a sales representative and retired in 1989 as Vice President and General Manager of the Service Parts Division. During his career at Trane, he was also named Managing Director of Trane Australia which gave him and Pat the opportunity to spend three wonderful years living in Sydney and exploring Australia and the orient. His retirement years were probably his busiest, between volunteering as a tour guide at National Museum of Naval Aviation in Pensacola, Florida, and traveling.
Warren loved spending time with his family on the Mississippi River and owned a succession of watercraft that he always kept ship-shape and ready for a cruise or a party. An avid motorcyclist, he enjoyed riding in Australia and on numerous long range adventures in the U.S. in the company of his sons. Other interests included hiking and camping, a hobby that led he and Pat to adventures in New Zealand, Ireland, England, France, and culminated with an unforgettable hike up the Chilkoot Trail in Alaska.
Active in the community, he was elected to the La Crescent School Board, served as La Crescent Police Commissioner, and was a member of American Legion Post 595 La Crescent, University of Minnesota Alumni Association, Naval Aviation Museum Foundation, VP-2 Association, the Reserve Officers Association, and the U.S. Naval Institute.
He is survived by his wife Pat, daughter Chris Farwell-Short of Pomona, California, son Joseph Farwell of La Crosse, and son Commander John Farwell, U.S. Navy, of SanDiego, California. Brother Roger Farwell of Arlington, Texas, son-in-law Leo Short of Pomona, California, daughter-in-law Rebecca Farwell of La Crosse, granddaughter Brittney Roob of La Crosse, and grandson Alexander Farwell of La Crosse. Warren was extremely proud of his children, with Chris a successful small business owner, Joe working at Trane and raising a wonderful family, and John following his father's footsteps and earning a commission as a Navy Officer.
Interment will take place at Fort Barrancas National Military Cemetery, December 28, 2007, aboard NAS Pensacola, Pensacola, Florida, with a celebration of life following at the Naval Aviation Museum.
In lieu of flowers, memorials may be given to Mayo Clinic Cancer Center, 200 First St SW Rochester, Minnesota 55905, or online at www.mayoclinic.org/development/. Memorials may also be given to the Poverello Foundation for providing financial assistance to cancer patients, P.O. Box 450 Albert Lea, Minnesota, 56007, and to the Naval Aviation Museum Foundation online at www.navalaviationmuseum.org/.