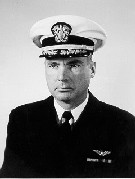 Donald P "Pat" Lanaghan of Pensacola Beach, FL, a retired naval aviator, died December 23, 2007 of pneumonia.
Born November 23, 1920 in Clinton County, IA, he was the eldest of five children born to Patrick H and Mary Agnes Lanaghan. After graduating from Charlotte [IA] High School in 1938, he enlisted in the Navy in 1939, training at the Great Lakes Naval Air Station, then San Diego, before being stationed at Pearl Harbor as a radioman on a patrol plane in 1941.
His plane, he related years later, was in the air flying west at the time the Japanese launched their surprise attack from the northeast. It was among the few patrol planes to survive the attack but received friendly fire, after it had landed and while being re-fuelled at the base.
In 1942, he joined the ranks of enlisted naval aviation pilots ("silver eagles") and was commissioned an Ensign by the end of the war.
Cdr Lanaghan was Commanding Officer of VP-2, a naval anti-submarine warfare squadron from 1962 to 1963, deploying with his unit to Adak and Kodiak, AK.
Other naval assignments took him to Pensacola; Whidbey Island; Iceland; the Advanced Training Command, Hutchinson and Corpus Christi; Boston; Newport, RI; the Pentagon; and Barbers Point, among others.
Over the course of his career as a pilot, he logged well over 10,000 of hours flying P2V Neptunes and a variety of other multi-engine aircraft.
Those who served with him note that he was an inspirational leader, a good judge of character and highly respected by all who knew him.
Cdr Lanaghan graduated from the University of Mississippi (BA, 1950) and George Washington University (MS, 1968) in addition to completing advanced courses in naval warfare and counterinsurgency at the Naval War College.
He is remembered by his siblings for helping his family through difficult times, and by his nieces and nephews as a wise mentor who generously shared his time with them. Donald is survived by his sisters, Harriett Lanaghan of Urbandale, IA and Teresa Paulsen of West Des Moines, IA; his brother David Lanaghan and sister-in-law Mary Jean of Davenport, IA.; his sister-in-law Eileen Lanaghan, formerly of Murrieta, CA; and many nieces and nephews. His youngest brother, Edward Lanaghan of Murrieta, CA, died in 2003.
The funeral will be held at 10:30 am, January 12, 2008 at Assumption Church, Charlotte, IA, followed by burial in the church cemetery. Memorials may be made to Assumption Church, 147 Broadway St, Charlotte, IA 52731 or to the Patrol Squadron Two Association ( http://www.patron2.com).
[nvsoar__16Jan2008]